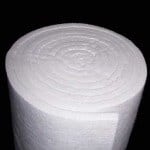 I.    Ceramic Fiber Blanket Insulation
Ceramic fiber blanket insulation products are manufactured from alumina-silica materials and offer such characteristics as high temperature stability, low thermal conductivity, low heat storage, excellent thermal shock resistance, light weight, and superior corrosion resistance. ceramic fiber products exhibit thermal stability at temperatures up to1260°C(2300°F).
Ceramic fiber blanket and mat product family consists of a group of lightweight, thermally efficient ceramic fiber insulating materials that combine the advantages of both low heat storage and complete resistance to thermal shock. Offering a broad range of thermal capabilities and physical characteristics, this product family provides proven and effective solutions to a variety of heat processing applications
II.    Fiberglass Insulation Blankets
Fiberglass insulation blanket is used to insulate either hot or cold surfaces of pipes, tanks, storage vessels, ducts and similar round or irregular shaped surfaces.  Provides good compressive strength while providing  flexibility during installation.  Fiberglass Pipe and tank wrap is suitable for operating temperatures up to850°F(454°C).
# Flexible product that is easily wrapped around pipes, tanks, ducts, or vessels, while providing good rigidity and abuse resistance.
# Cost effective substitute of pre-formed pipe insulation.
# Quick, easy installation.
# Low thermal conductivity
III  Mineral Wool Blanket Insulation
Mineral wool blanket insulation products are made from basalt rock and slag. This combination results in a non-combustible product with a melting point of approximately 2150°F (1177°C), which gives it excellent fire resistance properties. Mineral wool is a water repellent yet vapor permeable material.
Mineral wool blanket insulation is flexible, lightweight, water repellent, fire resistant and sound absorbent. Mineral wool blanket insulation is suitable for use in many O.E.M. industries, petro-chemical, power generating plants, boilers, furnaces, towers, ovens and drying equipment. The product is non-combustible and can be specified with confidence where fire performance is of concern.
Properties:
Flexibility
Non-Combustibility
Low moisture sorption
Fire Resistant
Excellent thermal resistance
Does not rot or sustain vermin
Does not promote growth of fungi or mildew
CFC and HCFC free product and process
Made from natural and recycled materials
Regarding to the ceramic fiber insulation material about the characters or the applications ,if you have any question, just feel free to contact us.